I've been making buttons like crazy. I got really excited about their potential because before now, I've just been using them to put on things I've made rather than selling them individually.
These are my "Boo-ttons:"
I tend to keep getting frustrated with Etsy though. I'm trying not to be too negative, but it's sometimes hard when you're not selling anything and you really really would like to.
How cool would it be to work from home and make stuff you love to make all day? (...and in my case, do freelance video editing as well.) Most people on Etsy are so kind and interesting too, so it's a great place to hang around, although I know not everyone can be a super-mega-crazy seller.
There are so many amazingly crafted, creative, quirky, "successful" sellers on Etsy that I admire, and I so badly want to be one of them. Maybe I'm trying too hard or my envy is taking hold of me. One moment I'm really happy and hopeful about it and the next I'm down and annoyed by it. I've done every marketing thing possible that I can find (including this blog, to be honest!). I often feel like I just want to shake my computer and yell, "What is it that they want?!" But, alas, I know that will only be bad for my computer which I depend on so desperately for all of this and the other stuff I do. Once I'm able to move to a new place, I think having an area with all of my stuff strewn out will be extremely helpful. Mine wouldn't be this organized or elaborate, but isn't this one delightful?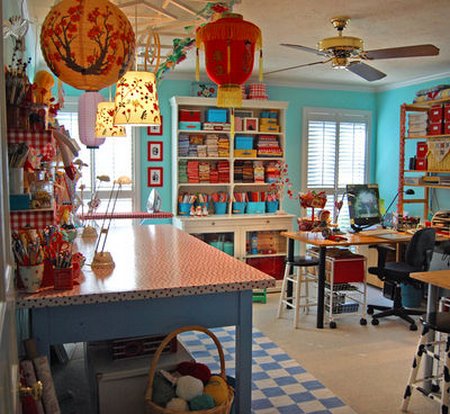 Conclusion: Try anyway. This lady looks content with her crafting, and I'm sure she doesn't have an Etsy. I'm lucky it even exists. Maybe I'll find other avenues to explore if this doesn't work out.